Gilbert Relies On Backflow Paradise Inc. For Premier Backflow Services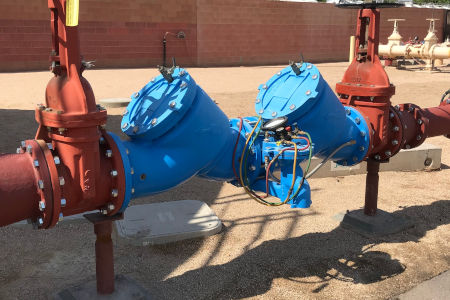 When Gilbert residents are seeking the most reliable and respected backflow services, they know they can rely on Backflow Paradise Inc.
As ABPA Certified Testers with over 15 years in the backflow field, we are confident that a backflow specialist from Backflow Paradise Inc. can meet your needs quickly and efficiently. We provide a wide range of backflow services in Gilbert, from backflow rental and repairs to certified backflow testing. We take pride in not only being exceptionally competent but also in maintaining honesty in all of our services. This means you never have to be concerned when a backflow expert from Backflow Paradise Inc. services your property.
If you require Gilbert backflow services, Backflow Paradise Inc. is the ideal company for the task, and any of our backflow contractors will be pleased to assist you from the initial request to the day of your service.
Why Do We Need Backflow Testing In Gilbert, AZ?
If you live in Gilbert, you are a client of the Arizona Water Company, which oversees the Cross-Connection Control Program. This system guarantees that the Arizona Administrative Code on Backflow Prevention is followed closely.
The program demands several moving parts to guarantee that the water system in each region is not affected by backflow. This includes installing, testing, and maintaining authorized backflow protection systems. Along with having this assembly installed in your plumbing system, you must have it tested yearly.
The Arizona Water Company performs the courtesy of sending a notice in the mail when your inspection and tests are due, but all clients are responsible for selecting their backflow prevention company and paying the costs for all components of it, including the mandatory testing. In most ways, it's similar to a vehicle inspection.
But why is this prevention regulation framework in order? Water is a necessity in Gilbert, as it is in many other parts of the world, but it is also difficult to supply due to the climate. That implies that if your property's plumbing system backflows, you might pollute the whole city's supply and compel them to flush it out, wasting countless gallons of water.
The Best Backflow Repair Service In Gilbert
As a business that focuses on backflow services, and with over 15 years of doing it, we are confident that we can repair and backflow system. If you've noticed leaks, smells, or strange water pressure, reach out to us by calling 623-297-9703 to schedule an inspection and possible repair as soon as possible. We Are the Phoenix Backflow Professionals You Can Trust
Get Your Free Estimate Today