Phoenix Backflow Repairs & Installation To Protect Water From Pollution & Contamination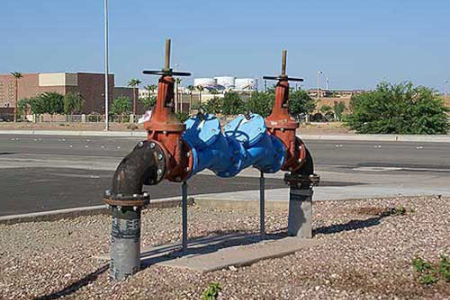 When Phoenix home and business owners need new backflow preventers or suspect they may be damaged, they call Backflow Paradise Inc. We provide complete backflow repairs & installations for every property type or device.
Keeping your backflow preventer is good working condition is essential not only to your property's water system but to the water systems of every property within the Phoenix region. Without a proper backflow prevention system or a system that is damaged or even missing entirely, water pressure can be the city's enemy. With a lacking backflow prevention system, a change in pressure within your city's water system, for instance, a fire hydrant being opened, can create a backflow within other properties, essentially sucking water back into the system. This is a very bad scenario, especially for properties that have an irrigation system, do chemical treatment, or operate with human waste like hospitals. When the water backflows, these substances will be sucked into the city water system, contaminating the entire store.
For a full range of backflow services for Phoenix, be sure to give us a call at 623-297-9703 to discuss your needs from testing to backflow repairs & installation.
Backflow Prevention Installation
Our team of backflow repair & installation experts is available to all Phoenix residents, no matter the property type or prevention device issue. From the moment you call to the day of your backflow service, you will experience a smooth and hassle-free process. In addition to our free estimates, integrity-based services, and ABPA certification, a backflow repair & installation with Backflow Paradise Inc. will come with the assurance of a family-owned and operated business with a full portfolio of licenses, bonds, and insurance.
With this, we hope to reassure your choice in Backflow Paradise Inc. as your backflow prevention installer. We have a satisfaction guarantee, and we offer a full collection of backflow services, so you don't need to contact other companies for each service, from backflow installation to backflow testing.
Experts In Backflow Prevention
With over 15 years in the backflow prevention industry, we are confident in our abilities, skill, and service. This means that we are licensed, certified, and insured, but we are also known for cordial and friendly attitudes and accommodating scheduling. We pride ourselves in being experts in the industry and strive to ensure our customers come back to use one of our backflow preventer device services.
Give us a call at 623-297-9703 to learn more about our Phoenix backflow repairs & installation services, or navigate to our Services page to see our other services. We Are the Phoenix Backflow Professionals You Can Trust
Get Your Free Estimate Today