#1 Backflow Services Company For Mesa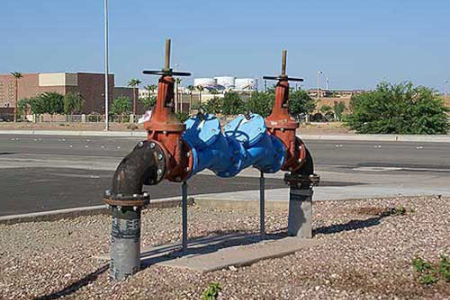 As a family-owned and operated business in Mesa, AZ, Backflow Paradise Inc. recognizes the significance of being well-known and recommended by our customers. We aim to keep our clients coming back for their backflow needs by delivering excellent backflow services and exceptional customer service. As industry professionals for over 15 years, we have the abilities and credibility you need to securely hire our backflow services for your facility or home.
From the moment you contact us to schedule your service until the day we arrive at your Mesa property to service your backflow preventer, you will be met by friendly and professional employees with whom you can place your trust. As the #1 backflow company in Mesa, we supply complete backflow services - so you can use Backflow Paradise Inc. for anything from installation to backflow testing. At Backflow Paradise Inc., we will be your one-stop shop.
Mesa Backflow Testing Is Mandatory
Backflow prevention devices are required and rigorously enforced in many areas, including Mesa, to ensure that wastewater does not backflow into pipes and pollute the water supply. The Cross-Connection Program is mostly enforced on commercial properties; however, installing and testing a backflow device in a private residence is fairly common.
Annual backflow testing is mandatory in Mesa. The Arizona Water Company sends out notices to its customers to ensure that they do not miss an inspection and face being out of compliance and causing harm to the water supply. A properly functioning backflow device is always a wise choice for preventing water pollution, regardless if it is required or enforced on certain property types.
Mesa Backflow Repair Services
There are various methods for determining if your backflow preventer is damaged and requires repair. The most visible sign would be leakage around the preventer. Uneven water pressure, hazy or murky water, discolored water, and abnormal drainage activity are all signs. When confronted with any of these indications, it is typically better to contact Backflow Paradise Inc. as soon as possible to inspect and test your backflow preventer.
At Backflow Paradise Inc., we provide free estimates for all of our backflow services. You may be certain that we are ABPA certified, satisfy the criteria and regulations, and can act as your chosen Mesa backflow device professional for testing, repair, and any other backflow services.
Call 623-297-9703 and talk with an expert to learn more about backflow prevention devices and how Backflow Paradise Inc. services them with industry-leading expertise. We Are the Phoenix Backflow Professionals You Can Trust
Get Your Free Estimate Today