Backflow Rentals To Temporarily Prevent Phoenix Water Contamination Until New Installation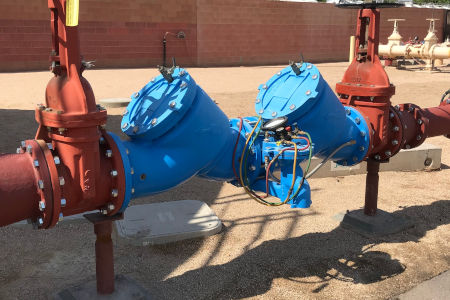 Backflow rentals are available at a competitive rate at Backflow Paradise Inc. Phoenix home and business owners can rest easy knowing they will have access to certified backflow preventers during any manner of situation where they find themselves in need of a temporary device.
There are a variety of reasons someone might need the option of backflow rentals. Commonly, this is used during temporary commercial means as a way to stay in dust suppression compliance. In these cases, it is easier to rent a backflow preventer and have it installed professionally with a certified tester each time production moves. At Backflow Paradise Inc., we are a one-stop-shop of all thing backflow prevention and offers all of these services along with our backflow rentals for your convenience.
Other times, customers need backflow rentals after their original backflow prevention device breaks. Typically the best or chosen device is in stock, but there have been times when a specific brand or model is wanted and needs to be shipped, in which case a rental is necessary.
To learn more about backflow rentals and how Backflow Paradise Inc. can service your Phoenix property as an industry-leading expert, give us a call at 623-297-9703 today.
Backflow Preventers For Rent
At Backflow Paradise Inc., we strive to keep a wide variety of backflow preventers in stock to be sure when you need a new installation; we will be able to either match your previous preventer or supply you with a rental while one ships.
We have a backflow prevention device for every property and for every pipe system, so you can rest assured that you will find a temporary replacement before the city's water system is at risk.
In addition to backflow rentals, we offer every backflow service you may need, including backflow testing, backflow cages, and even backflow repairs and installation.
The Dangers Of Uncertified Or Improper Backflow Preventer Rentals
At Backflow Paradise Inc., we guarantee that our backflow rentals are always within industry, state, and city standards to ensure the water system is safe from contamination. Backflow rentals that don't meet these standards can be a risk to the Phoenix water system. Backflow preventers with leaks, wear and tear, corrosion, and incorrect installation can completely negate the function of the device altogether. Then the next time a large volume of water is used elsewhere - for instance, a fire hydrant - the water pressure will cause non-potable water from irrigation or treatment plants to be pulled back into the system, ruining the entire bulk of it.
To learn more about our backflow services for Phoenix and the surrounding areas, give us a call at 623-297-9703 today. We Are the Phoenix Backflow Professionals You Can Trust
Get Your Free Estimate Today