Expert Backflow Services Company in Goodyear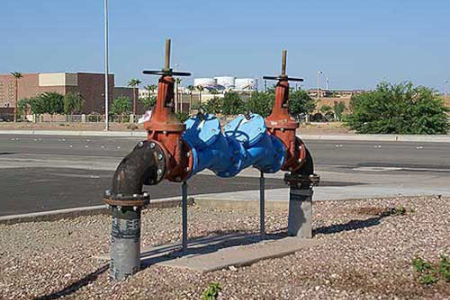 When Goodyear residents and business owners need new backflow preventers or fear that their existing ones are damaged, they contact Backflow Paradise Inc. We offer full backflow services for any type of property or equipment.
Keeping your backflow preventer in excellent functioning order is critical not just for your property's water supply but for the water source of other properties in the Goodyear area. Water pressure may be the city's adversary if there is no effective backflow prevention system or if the system is broken or missing totally. Within a lacking backflow preventer, a change in pressure inside your city's water system, such as opening a fire hydrant, might cause a backflow within neighboring properties, essentially vacuuming water back into the system.
This is a nightmare scenario, especially for properties that have irrigation systems, use chemicals, or deal with human waste, such as hospitals. These pollutants will be drawn into the city water system if the water backflows, polluting the entire city water supply.
Give us a call at 623-297-9703 to learn about our complete range of backflow services for Goodyear, from testing to backflow repairs and installation.
Backflow Testing Specialists For Goodyear
We offer integrity-based services and competitive rates for all of our backflow services, particularly testing. Our professionals are ABPA certified for the state of Arizona. With over 15 years in the industry, you can be confident that your backflow testing service will be conducted by only the best professionals in the industry. Our specialists are prepared for any scenario that may arise during our backflow service, and we have a full portfolio of licenses, bonds, and insurances, meaning you can rest easy that your property will be protected with a Backflow Paradise Inc. specialist on the job.
Many people have turned to Backflow Paradise Inc. for the best backflow services in Goodyear.
Backflow Repair & Installation Services For Goodyear
Backflow repairs and installation are the most basic methods of backflow prevention. After all, you need to have a backflow preventer to be able to prevent backflow, and a broken backflow preventer is just as bad as not having one at all. Our over 15 years in the business have allowed us to completely grasp the backflow assemblage and how it works so you can rest easy that when you choose us for this service, your plumbing system is in good hands.
To learn more about these backflow services, give us a call at 623-297-9703 to speak with one of our experts. We Are the Phoenix Backflow Professionals You Can Trust
Get Your Free Estimate Today