Phoenix Backflow Cages To Protect Your Equipment From Theft & Vandalism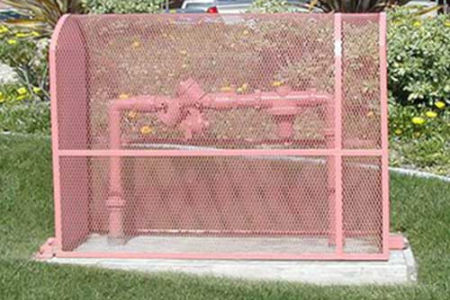 Phoenix home and business owners are notorious for caring for their belongings. That's why they opt for backflow cages when setting up their backflow preventers.
Backflow cages are a protective cover that is placed and locked around your backflow preventer to keep sticky fingers from latching onto it. While we would love to say that backflow cages are unnecessary and mostly to ensure you a secure state of mind, that isn't the case anywhere. Backflow preventers are made of materials that are wanted among metal strippers, and nobody is safe from that allure. Backflow preventers are commonly targeted when there are no abandoned buildings to be stripped.
In addition to theft, there have also been the occasional attempts at vandalism too, which usually results in broken or damaged backflow preventers that cannot properly do their job, which puts the water system in danger of contamination. While vandalism is caused by many reasons (troublesome teens, scornful neighbors), it is in your best interest to prevent your backflow system from being targeted by installing backflow cages. Not only will it save you a pretty penny in replacements, but it will help you keep your city water supply from being contaminated and good water wasted.
Backflow Enclosure Installation
At Backflow Paradise Inc., we are experts in all thing backflow. From backflow rentals to backflow installation and theft prevention, we know our stuff. With over 15 years in the industry and with a full portfolio of licenses and certifications, we are confident that we are the best backflow prevention company in Phoenix and the surrounding region. With our expertise, you never have to worry about your home or business contaminating the region's water supply.
Why Backflow Devices Are Targeted
As we said above, backflow prevention devices are targets for theft due to the metals they are made of. Backflow prevention devices are typically made of copper, brass, or steel, which can fetch a pretty penny for those who collect and gather metals as a means of making money. Typically these metal strippers target absconded houses and businesses, but in desperate times, it isn't uncommon for exterior fixtures to be aimed for. Backflow prevention devices are accessible in many to most cases and relatively easy to detach and stow away before moving on. Backflow cages are a surefire way of preventing theft and are only one of the backflow services for Phonix offered by Backflow Paradise Inc.
To learn more about backflow cages or any backflow services, give Backflow Paradise Inc. a call at 623-297-9703 today. We Are the Phoenix Backflow Professionals You Can Trust
Get Your Free Estimate Today