Backflow Paradise: Cave Creek's Number One Choice For Backflow Services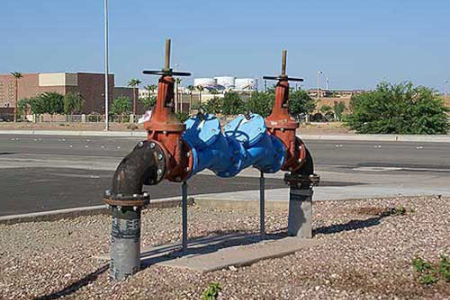 Backflow Paradise is your one-stop shop for all of your backflow service needs in Cave Creek. We offer a range of services including backflow testing, repair and installation, and backflow cages and rentals. We pride ourselves on providing top-quality service to ensure the safety and integrity of your plumbing system. Our team of certified technicians is highly experienced and knowledgeable in all aspects of backflow prevention, and we use only the highest quality equipment and parts to ensure your system is installed or repaired to the highest standards.
In addition to our backflow services, we also offer backflow cages and rentals to protect your backflow prevention devices from vandalism or theft. By choosing Backflow Paradise for your backflow service needs, you can trust that your plumbing system is in good hands and that your water supply is being protected by the best in the industry.
Cave Creek's Top Provider Of Backflow Testing
Backflow testing is a critical component of maintaining a healthy and safe plumbing system for you and your family in Cave Creek. Backflow occurs when contaminated water flows backward through your pipes and mixes with your clean water supply. This can happen due to a sudden drop in water pressure, a burst pipe, or other unforeseen circumstances. Regular backflow testing is essential to ensure that your backflow prevention devices are working correctly and preventing contaminated water from entering your clean water supply. Without proper backflow testing and maintenance, you run the risk of exposing yourself and your family to harmful bacteria and chemicals that can cause serious health problems.
By investing in regular backflow testing services from a pro like Backflow Paradise, you can have peace of mind knowing that your plumbing system is in good working order, and your family's health and safety are protected.
Reliable Backflow Repairs & Installation For Cave Creek
Like with other home improvement services, it's always best to hire a professional to take care of your backflow repairs and installation services. Our expert team has the expertise and knowledge necessary to accurately diagnose and repair any issues with your backflow prevention system. Attempting to repair or install a backflow prevention device yourself can be dangerous and may result in further damage to your plumbing system. We also have access to specialized equipment and high-quality parts that are not readily available to the general public.
By utilizing these resources, we can ensure that your backflow prevention system is operating at maximum efficiency and is in compliance with all relevant regulations. We're proud to offer a guarantee of quality workmanship, which means you can be confident that your backflow repair or installation services have been performed by a skilled and experienced technician. Hiring a professional backflow service company like Backflow Paradise to perform your backflow repair and installation services is the safest and most efficient way to maintain a safe and healthy water supply. We Are the Phoenix Backflow Professionals You Can Trust
Get Your Free Estimate Today