Finest Backflow Services In Paradise Valley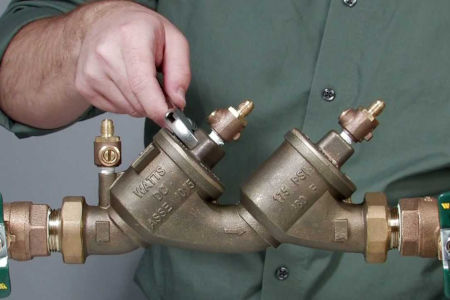 Nestled in the breathtaking landscape of Paradise Valley, where pristine beauty meets modern living, Backflow Paradise Inc. is here to serve you with our exceptional backflow services. As residents of this stunning community, we understand the importance of maintaining the integrity of your water system. Our team of skilled professionals specializes in providing comprehensive backflow services tailored to the specific needs of Paradise Valley residents and businesses. Are you in need of professional backflow services for your Paradise Valley property? If so, give our team of skilled professionals a call today and let us show you the kind of quality results that have helped make us the most trusted source for quality backflow services and backflow testing the area has to offer.
Benefits of Backflow Services
Protection: Safeguard your water supply and protect the health of your loved ones with our expert backflow services. Our team installs reliable backflow prevention devices that prevent the reverse flow of contaminants, ensuring clean and safe water for your daily needs.
Compliance: We stay up-to-date with the latest regulations and requirements set forth by Paradise Valley authorities. With our knowledge and expertise, we ensure that your backflow prevention system meets all necessary standards and certifications, keeping you in compliance with local guidelines.
Peace of Mind: With Backflow Paradise Inc., you can enjoy peace of mind knowing that your water system is in the hands of professionals. We offer regular maintenance and testing services to identify potential issues early on, preventing costly repairs and ensuring the continuous flow of clean water.
Safeguard Your Water Supply with Expert Backflow Testing in Paradise Valley
Backflow testing, also known as cross-connection control testing, is a vital step in maintaining the safety and integrity of your water system. At Backflow Paradise Inc., we offer top-of-the-line backflow testing services in Paradise Valley. Our highly trained technicians utilize advanced techniques and state-of-the-art equipment to thoroughly evaluate your backflow prevention system and ensure its proper functionality. Contact us today to schedule a backflow testing service and protect your water supply.
About Paradise Valley
Nestled amidst the breathtaking scenery of the Sonoran Desert, Paradise Valley is a true oasis of natural beauty and luxury. With its serene ambiance, prestigious resorts, and world-class golf courses, Paradise Valley offers residents and visitors a unique lifestyle that perfectly blends tranquility and sophistication. To maintain the pristine quality of your water supply in this remarkable community, trust Backflow Paradise Inc. Our expertise in backflow services ensures the safety and reliability of your water system. Contact us today and let us take care of your backflow needs, so you can enjoy the unparalleled splendor of Paradise Valley with peace of mind. We Are the Phoenix Backflow Professionals You Can Trust
Get Your Free Estimate Today